Bob's Shooters
Bill of Rights: The Second Amendment
The Second Amendment to the Constitution of the United States of America guarantees the God given right of each individual citizen to own and use a firearm. This has recently been reaffirmed by the Supreme Court of the United States in the case "DC vs. Heller" on June 26, 2008 and "McDonald vs. Chicago" on June 28, 2010.
GLOCK 30
Possibly my favorite gun (hard to decide), is my Glock 30. The legendary .45 caliber offers excellent out-of-the-box precision paired with the ballistic quality of a genuine big-bore caliber. The smooth design and the simple operation of the GLOCK pistol allow quick drawing of the pistol. I have a Gould & Goodrich holster for this gun that fits inside my waistband for concealment. This compact but powerful gun, with the magazine filled with ten rounds of 230 grain hollow-point .45ACP ammunition, is my choice for concealed carry (I am now permitted to carry a concealed weapon in 38 states).
S&W 686 PLUS
Smith & Wesson introduced the Model 686 in the early 1980's. It was chambered for .357 Magnum and .38 S&W Special +P calibers. This one holds seven rounds in the cylinder and has a 2½ inch barrel. This is the gun I keep close at hand when I'm at home or when in a rented room or at a campground.
Remington 870 Shotgun
Remington introduced the 870 "Wingmaster" shotgun in 1950; since then it has become one of the most popular USA-made pump action all-purpose shotguns. Beginning it's life as a versatile hunting shotgun, available in many different configurations and gauges, in early 1970s the Remington 870 was adopted by US Military – in 1966 US Marine Corps purchased some thousands of the Remington 870 Mk.1 shotguns (along with Mossberg 590 and Winchester 1200). Military shotguns have extended magazines for 7 or 8 rounds, bayonet mounts, heat shields around the barrels and non-glare, protective and rust-resistant finishes.

Remington 870 also is very popular police/security shotgun, available with extended magazines (up to 8 rounds), fixed or folding butt stocks or with pistol grips. Usually, police Remingtons have 14 in. or 18 in. barrels with cylinder or improved cylinder chokes, capable of firing buckshot, slugs and special purpose munitions (tear gas grenades, non-lethal rubber bullets etc.). M870 may be equipped with rifle-style or ghost-ring (peep) sights, with tactical flashlights and lasers etc.
Technically, Remington 870 is a pump-action shotgun with dual action bars and tilting breech block, that locks directly into the barrel extension. Barrel may be swapped (changed) within minutes to fit the situation.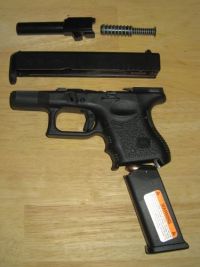 Glock 26
I sure do love my Glocks. The first one I acquired is this nice sub-compact Glock 26. Here are the specs for this nice little pistol:
Glock 26 Specifications
Weight: 560 g / 19.75 oz
Length: 160 mm / 6.29 in
Barrel length: 88 mm / 3.46 in
Width: 30 mm / 1.18 in
Height: 106 mm / 4.17 in
Caliber: 9 mm Luger Parabellum
Action: Safe action
Feed system: 10 / 12 / 15 / 17 / 19 / 33 round magazine
Sights: Fixed front and rear
At the right, you can see the field-stripped gun. This gun is much easier to disassemble and reassemble than our S&W 908 9mm pistols. I am able to strip this gun (and the Glock 30) and put it back together in under 30 seconds – without hurrying. In the image at the right you can see the gun's component parts after field stripping – the barrel, recoil spring assembly, slide assembly, frame and the stock 10-round magazine.