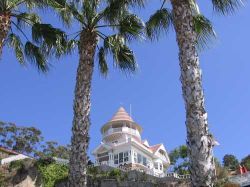 While making plans to celebrate our anniversary in Avalon (on Santa Catalina Island) later this year, I ran across this picture I took of Holly Hill House during a previous anniversary trip (click on the picture for a larger view).
The charming Queen Anne style cottage on the bluff over looking Avalon Bay has been a local landmark since 1890. The third oldest house in Avalon, its history mirrors that of the town. The house has always been a private residence and the current owner has restored it and furnished it with turn-of-the-century antiques.
Is the story true that the builder/owner of the Holly Hill House refused to let women on the property after his bride-to-be jilted him, because she didn't want to live in such an isolated place?

Lookout Cot (later Holly Hill House) was built in 1890 as a private residence by Peter Gano, a retired engineer from Pasadena. His sister was to come live with him, but she never did. He did allow women on the property.