Links
Click here to view the 3D Gallery
Click here to view a Random 3D Image
Click here to view the 3D Blog Archives
Abstract
One of my interests is making stereoscopic (3D) images using a technique that separates the left and right eye images into red and cyan (blue-green) and superimposing them into a single image that must then be viewed by looking through 3D glasses. This technique produces what's called an anaglyph image.
About These 3D Images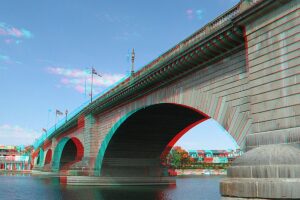 I keep an eclectic assortment of anaglyph images in the 3D Stuff gallery. The gallery page features an array of thumbnail images of all available images with links to the full-sized images. Follow this link to view the thumbnail pictures and then click a picture or its title to view the full-sized image.
To view these images you need a pair of red/cyan or red/blue 3D glasses. If you don't have a pair, you can purchase a pair from Rainbow Symphony. Be sure to ask for red/cyan anaglyph glasses since red and cyan are true compliments — red and blue are not true compliments, but will work reasonably well.

Techniques Used to Make 3D Images
Since I don't have a stereo camera, I take the left and right pictures one at a time by shifting the camera horizontally about four inches between photo pairs. You have to be careful to keep the camera at the same vertical angle and same distance to the subject of the picture. You also won't be able to get nice pictures if the subject is moving; scenes where the wind is moving trees or there is traffic in the background will be difficult to capture. If you're careful, you can get some very nice 3D images.
The software utility I use to combine images into an anaglyph is available from stereoeye.jp. The utility allows you to select the left and right images, combine them into one of several 3D formats and adjust the resulting image for position and convergence. The software image options are grayscale (red-cyan), grayscale (red/blue), grayscale (red/green), color (red/cyan) and LCD shutter. I used the red/cyan color anaglyph setting for all pictures in this gallery.
Let me say a few words about color images. If you are photographing subjects that are close to the color red or cyan, you may not get very pleasant effects; to the red eye, a red flower will look red, and to the cyan eye, it will look gray or black. Avoid pictures with red or cyan saturated objects. If you can't avoid those colors then you can make the equivalent of a black and white photo, where the hues are all shades of gray using the software red-cyan grayscale setting.
Click on the thumbnail image above or on the title to open a full-sized 3D image. From there you can navigate to my gallery of 3D images.