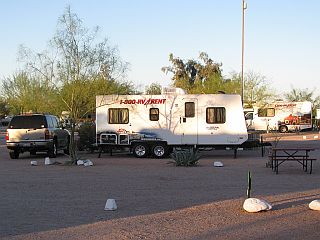 I recently posted about our travel strategy of first driving to Phoenix before renting the travel trailer for our vacation in Arizona. The strategy worked out great and we enjoyed the vacation a lot.
Image: The cruise America Travel Trailer at Apache Junction KOA. Click image for full-size. We were in one of several Cruise America RVs there.
When we returned the rental trailer to Cruise America in Mesa, AZ, we inadvertently forgot Verna's Canon Camera battery charger which was still plugged in to one of the AC outlets in the kitchenette. As soon as we discovered it was missing, I called the Rental Supervisor, Joe Morales, and asked him if he would look for it. He agreed, and was to call me back later. He did call back later that day, but I missed the call. By the time I got his voice mail, Joe would not have been at work. I sent him an email asking him if he would send the charger to us, with an offer to pay for shipping and handling. The next day, Joe emailed us back saying he would send the charger and advise us of the cost.
Two days later, the big brown truck of goodness (UPS) delivered the charger. It was bubble-wrapped in a small parcel – a real professional-looking package. Verna was glad to have the charger since the battery was low and you know how she loves to take pictures.
After the package showed up, I sent Joe a follow-up email thanking him for the effort and asked how I could pay them back. Joe sent this response today:
No problem, just let your friends and family know how great we are, nice doing business with you.
Joe said it – they were great! We'll be back to the Mesa Cruise America for sure. Soon, we hope.